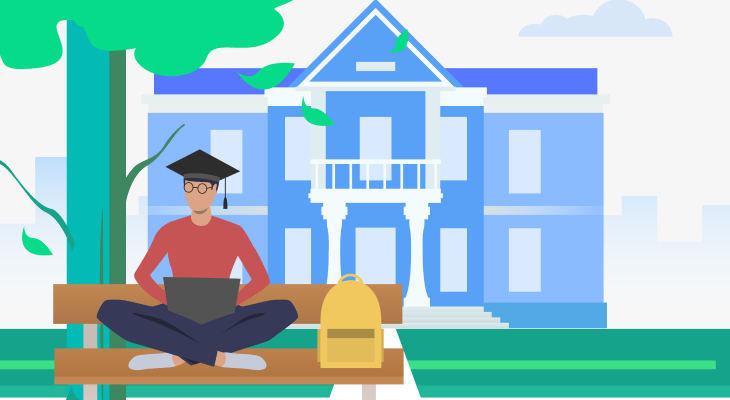 The University of Michigan in Ann Arbor is one of the most prestigious universities worldwide. If you check the ranking of the top 25 universities in the world, the UM will be there.
This university is located in a beautiful college town and has an attractive 781-acre campus that includes more than 500 buildings. The Matthaei Botanical Gardens allows students to admire nature and delve into its science.
The UM can boast of all the benefits that characterize the best large public schools and provides brilliant opportunities for those who aim for academic success. Its student/faculty ratio is 15:1. No wonder that the University of Michigan's acceptance rate is around 23.5 percent, which means that they admit 23 applicants out of 100. The admission test scores requirements are exceptionally high. Let's face it: this place is for straight-A students.
If you are a determined person and getting the best possible education is your priority, then the University of Michigan is the right place for you. However, getting into the UM may be challenging even for the most diligent students. In this article, we will explain what criteria are determining for getting accepted.
How to Apply to the University of Michigan
To apply, use the Common Application. The second option is the Coalition Application, but we recommend using the first one. It is simply more established. For Early Action, apply by November 1. For Regular Decision, students may apply until February 1. Send in all the following documents:
Your application (use Common App or Coalition App)
A supplemental essay
Your SAT/ACT scores
A recommendation from one teacher
A counselor recommendation and a school report
High school transcript
An application fee
Official college transcripts (in case of dual enrollment)
It may be required to submit other materials, such as a portfolio, unless you apply to the School of Literature, Arts, or Science. Don't miss these additional requirements, and make sure that you've prepared everything you need.
What are the Chances of Getting Into The University of Michigan?
If you dream of joining the ranks of the UM students, prepare to work hard. According to the last year's data, only 23.5% of applicants got in. Last year, this university received 65,685 applications. Only 15,468 of them were admitted, and around 6,685 applicants became students.
It will be of great help if you surround yourself with those who went through the application process. A strong application is your golden ticket. If you know someone who successfully enrolled in the UM, connect with this person, and don't be shy to ask for help. You can learn a lot from someone's first-hand experience.
If you don't know anyone with such experience, don't get upset. You can hire professionals who will help you make the application as strong as possible. Mentorship is crucial when it comes to such a challenging and responsible goal. Professional consultants will guide and support you so that the whole process becomes less stressful.
What does it Take to Get Admitted Into the UM
Many students think that universities and colleges are only interested in their grades or educational achievements. This is not entirely true. Like many other schools, the University of Michigan wants to know what kind of person you are. In your application, you should try your best to highlight your strong sides. Focus on the following fields:
Academics
Those who get admitted to the UM are mostly students who had difficult high school courses and got good grades. An average GPA of the last year's admitted applicant was 3.88. Besides excelling in challenging classes, you need 1380-1540 SAT scores and 31-34 ACT scores. If your test scores are not very high, there is a low possibility of getting into the UM (even if all the other requirements are fulfilled).
Extracurricular activities
This is not about what kind of activities you were engaged in. The admissions officers look for applicants who pursued those activities with excellence and passion. Maybe you took the leadership role, started an organization, or won some awards. Whatever this was, prove that these activities meant a lot to you and explain why you pursued them.
Character
The UM wants to replenish its ranks with innovative young people who have prospects of success and leadership. They want to be sure that their future students will seize the offered chances and opportunities. In your essays, show what your values and strength are. As for recommendation letters, they should be written by those who know you well.
Contributions to Community
Among other things, the University of Michigan is looking for cultural and educational diversity. Above all else, they want to educate people who can link classroom learning with experience and think originally. If you feel passionate about new experiences, meeting new people and connecting with them, the UM is waiting for enthusiastic individuals.
Make Your Application Special
To make your application unique and interesting, use the following strategies:
Only bright and highly motivated applicants get admitted into the University of Michigan. They want to make sure that their future students are determined to make the most of what can be offered. In the application, include all your strong sides and talents, as well as your values and enthusiasm.
Cooperate with recommenders.
Asking someone to write a recommendation letter for you is not enough. You need to team up with the person who will be your recommender. Of course, you can't write it for them, but you can help. First of all, explain why you need this letter and why you asked this specific person to write it. We recommend asking someone who's seen your unique sides, who knows you as a person.
It might be a good idea to provide information on the activities you pursued and show your resume to the recommender. Let them know as much as possible about you. It will help to highlight your strengths in the recommendation letter.
Get help from a counselor.
Creating a compelling application might be a challenging task, even for the brightest individuals. It is not enough to be an honor student, a leader, or a talented person. You need to know how to properly convey this information to admission officers. The process can be much easier if you work with a professional who has helped students get into their dream universities before. Getting a counselor's help is an effective way to improve your chances of getting into the University of Michigan.
What to Do if you Get a Rejection
Everyone needs to understand that the University of Michigan can accept a limited number of applicants. Sometimes even highly qualified, bright, and talented individuals receive rejections. If you don't get into the UM, don't beat yourself up. Motivated and resourceful people always find their way. There are plenty of other options, so don't limit yourself to just one.
The application review process in the UM is very thorough, and they don't accept admissions appeals. Petitioning their decision is not recommended. It might simply be a waste of time.
Look at the bright side: there is an option to reapply in a year. This is riskier than choosing another university, but if entering the University of Michigan is your cherished dream, waiting a year and thoroughly preparing for reapplying is your option. Besides, you can commit to another school and take a gap year there.
The good news is that the UM accepts transfer students, but your GPA has to be 3.0 or higher. To transfer, sophomore standing is ideal. Note that you will need to complete a new application.
Don't give up entirely on other equally great and promising schools. Many universities offer brilliant opportunities and a bright future. Consider these same-level universities:
Georgetown University
University of California, Berkeley
University of Southern California
New York University
Boston University
Boston College
Emory University
Note that these schools are also hard to get into. If the University of Michigan acceptance rate freaks you out and all the above-mentioned universities are also out of reach, consider these less demanding schools:
University of Connecticut
Villanova University
University of California, Santa Barbara
California Polytechnic State University, San Luis Obispo
Stony Brook University
The University of Texas at Dallas
Binghamton University
Professional Help is the Key
As you can see, the University of Michigan's acceptance rate is not very high. It means that the admissions process is highly competitive, and even the brightest applicants need to work hard to get admitted.
To get admitted to the University of Michigan, applicants need exceptionally good grades and high SAT or ACT scores. But this is just a part of the job. Apart from that, you need a brilliant application. We can help you get admitted to your dream school. Contact us, and let's get started! Bright future awaits you.