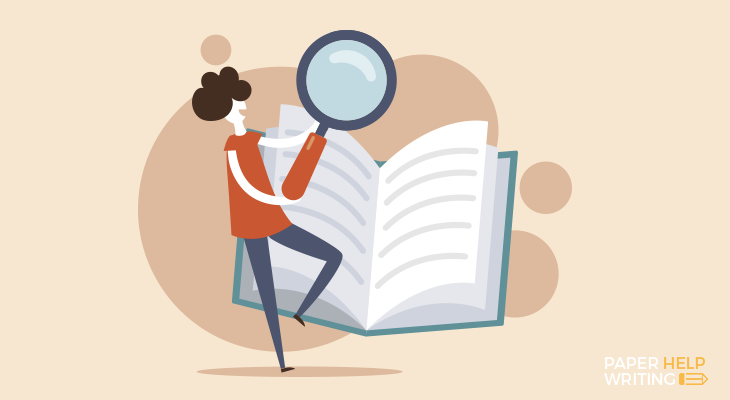 A definition essay is a common type of written assignment where your objective is to describe one word from several points of view, including its general meaning, origins, and its place in the today's society. Here is a step by step guide for acing your definition essay assignment from the first try.
Step 1: find the word to define
A lot of your success from writing the essay depends on your choice of words, and there are several criteria for choosing just the right word to define. First, this type of essays works better with words that have no concrete meaning: instead of a word that describes an object – for example, "cat", choose a word that describes an abstract notion – for example, "respect". You can achieve even better results if you choose a word that has a relation to the moral norms in the society.
The complexity of the world you choose is also important. A word that is perfectly easy to define may be a pleasure to write about, but if you pick a more complex notion, not only will your essay become more academic, but you will easily meet the word count for the assignment. Of course, don't try and define a word that you're reading for the first time or that has no connection whatsoever to your personality and experience.
The best word for a definition essay is the one you have a strong response to. It may not be easy to think of such word in a spur of the moment, but you can try this unusual technique: open a dictionary at a random page and choose a word you have a strong reaction to, like "love", "religion", or "law". It's even better if the word describes a concept rather than an object. Another technique you can use is asking someone you know closely, like a family member or a friend, about a concept they want to know more about.
Step 2: do your research
Start your research for a definition essay from locating as many dictionaries as you can and writing down each definition of the chosen word you can find. Note down the differences in the definition – this information will become very handy when you write your essay. You should also try and find definitions of the word from different perspectives: for example, how the same word is differently defined by scientists, philosophers, and the law.
Another thing you should study is the origin of the word and how its definition and place in the society changed over time. Specify what fueled the change in the perception of the word: were there economic, social, or political changes? For example, take the word "beauty" and all the various concepts this word has been linked to since the dawn of times. Once you believe you have presented the word from every possible perspective and point of view, you can move on to the next step of writing a definition essay.
Step 3: include your personal position
If you've done everything right in the first two parts of the writing process, you probably have a strong reaction to the word you're trying to define. Using your own experiences and opinions, offer your own definition of the word. Try to be as open as possible: sincerity really pays off in this situation. Don't forget to mention the factors, like previous experiences and ideas, that led to your way of defining the subject word.
A good way to maximize your chances of getting a good grade is to connect the subject word not only to your personal opinion, but also to events from your own life to support your ideas. Plus, connecting the word to the current social and political trends to show that the definition of the word keeps shifting even today will earn you extra points.
Step 4: summarize
In the final part of your definition essay writing you no longer have to present new ideas or opinions. View this part as a conclusion, where you once again state why you decided to define this particular word and what, in your opinion, has led to the definition of the word we know today.
Common mistakes when writing a definition essay
A definition essay isn't the most complex written assignment you'll have to deal with as a student, but there are still mistakes that many students are likely to make:
Choosing a word that does not spark any of your own thoughts and doesn't encourage you to do as much reading as possible.
Choosing a word that is too complicated and requires a lot of time just to understand what it means, not to mention looking for equally complex definitions.
Failing to specify the category of the subject word in your definition. For example, you can just say: "Love is when somebody experiences an affection". The first thing in your definition should be the category of the concept: is it a state, an emotion, an event, or something else?
Choosing a concept that is either too broad or too narrow. A broad concept is a subject for a work that is much bigger than a definition essay, and a narrow concept simply won't give you enough room to express your ideas.
10 ideas for writing a definition essay
If you're struggling with finding the right word for your definition essay, here are 10 words that are easy and rewarding to write about:
Gender
Feminism
Beauty
Faith
Equality
Evolution
Inspiration
Criticism
Life purpose
Ethics