Developing a news channel requires a lot of effort. Any step can lead to its rise or doom. Especially when it goes about a press release. It is the thing that creates your viewer's first impression and surely indicates your news channel professionalism. You can make it standard, like thousands of others. Or rely on creativity, during the selection of the words, headlines and opening phrases. And, of course, while writing a press release. It is the popular student assignment on Journalists and other courses.
Let's see what is it and how it can help your news channel.
Press release definition
You will not write a good press release without knowing its definition. Basically, it is a short news story, that serves as an official voice of your channel. Your target audience is not your viewers, and it is essential to keep that in mind. The people you should focus on are journalists and professionals. So, you need to write in the third-person voice and keep in mind other important rules we're going to describe in this article.
The main purpose of the press release is to provide journalists with the all necessary information to create an interesting text. We'll give you a sample to improve your regarding and to help you while writing a top-notch press release.
Tips on how to write a press release
If you are a beginner at writing press releases, let us provide you with some effective tips:
Make an outstanding headline. Your essential task is to grab attention. And the headline might come in handy for this purpose. You can rely on 5W rules – start with What, Why, Where, When and Who to get your audience involved. Add How to for sure.
Straight to the point. The content of your press release should be informative, waterless. If you consider some data to be useless, get rid of it. Also, never provide journalists with too much information in case you want to grab their attention. Make your press release neat and crisp, avoid confusion. Reread the text several times if needed.
Use catchphrases. Remember that it's important not only to attract readers but also to create so-called brand awareness. People should remember your news and share them with others. Catchy phrases will help you in this way.
Grammatically perfect. Hire a good corrector, or re-read the release a million times before submitting it. Poor language and grammar is a way to get read of your readers. Besides, remember that a lot of people read the news to improve their English. Be a good example for them. One random mistake may go unnoticed, but the trend will be death for your reputation.
Brevity is the soul of wit. You don't need 5 pages to share your news. 1 or maximum 2 pages would be enough. Think about your readers, they will be definitely bored with such a volume of information. Consider the rule "Less is more" while writing and get rid of everything that is useless.
Prefer active, not passive voice. One of your main goals is to persuade your readers to take action. And the use of a passive voice will rather hurt than help. It is less attractive and more bureaucratic. Using an active voice, you will make your audience feel more connected and involved.
10 steps to write an awesome press release
Make it as good as possible. It doesn't matter are you writing for a front-page or for the last one, leverage all knowledge to make your press release the best. Imagine you're an author of the biggest media in your city and create a masterpiece.
Check data, facts, figures. Use only the proven information, as your press release shouldn't be vague. Providing your readers with accurate data, you'll build a strong ground for your news.
Write down a list of possible questions and answer them. You have to think one step ahead. Imagine what questions your readers may have and provide them with answers. It is the best way to catch your audience with ease.
Don't rush with the headline. Creating it at the beginning of your write-up will be just a waste of time. You don't know how far inspiration will take you and the headline can lead you astray. Write your press release, reread it twice and you'll come up with an awesome headline.
Don't forget about the conclusions. It would be nice and useful to provide your readers with conclusions, some findings. People are used to receiving a final verdict in a book, paper, article, etc.
Leave contact details. This information isn't always considered to be crucial, but it is. Even if you've prepared an informative press release with all the needed data provided, journalists might have some additional questions. So, make sure you've left all the contact data. The best place for it is the top of your article.
Add relevant quotes. That will help you to make your press release more attractive for readers or listeners. You can speak with the sponsors or ask the CEO to provide any additional information. But make sure your press release is creative, without bureaucratic clerical phrases. They are such a turn off for modern readers.
Use the third-person voice. Remember that you're not targeting your audience directly, that's why you should write your text in such voice. Instead "Our company made significant progress last quarter" use "ABC company concluded a $10 million dollars cooperation agreement with XYZ company".
Use the inverted pyramid structure. If you are wondering on how to make your press release readers-friendly, take a look at a pyramid. Start with the most common information, simple facts, and then go deeper and narrower, adding more data.
Remember about your target audience. While education, you will face different assignments, such as writing a blog post, an article, a post for social media, etc. Then you will appeal to readers directly, considering their interests and tastes. But for now, your task is to write a good press release for journalists, editors, and broadcaster. Distinguish these groups to succeed.
Using press release format
Although the press release should be interesting and creative, its format is clearly defined. You should make it as crisp and correct as possible. We understand that this task isn't the easiest one, that's why we have decided to provide you with a step-by-step guide for a format. So take a look and leverage it to your advantage!
First things first – Company logo. It is an essential point of your press release that will make your brand awareness much stronger. Include this picture at the center of the page and consider its quality.
Contact information. As mentioned above, contact data matters. You should put it on the right margin to provide the readers with an opportunity to connect with you. Some companies prefer putting it after the body paragraph. Whatever you choose, make sure your contact information looks like this:
Contact: John Doe
Phone (111) 234 567 8-9
Email: [email protected]
Release date. This point isn't mandatory but sometimes it can be useful. You should include it if you want it to be done earlier. Add the release date below your brand logo on the left margin. You can write something like "Release on 5th of May on 16-45" or "For immediate release".
Headline. The bright and suitable headline is what makes your readers get interested. There are some requirements to issue the headline appropriately. You should center it, write in bold letters, using the 14-font size. Make sure it is strong and unique.
The deck or subheadings. This point is needed if you want to write your press release more substantively, to provide your reader with interesting insights. But it is essential to make sure that the desk doesn't repeat the data you've already provided.
Dateline. Writing the body paragraph, start with a dateline basically. Separate it from the content by a dash. Use capitals to write the location, e.g. WASHINGTON CITY, USA, May 5 – (main content).
Consider your first body paragraph. Remember about 5 W rule and use the answers to these questions in the first paragraph. Don't focus on hyping your product up at this moment, it is better to rely on stating the facts, for now. Remember the format. For the body paragraph, it is non-bold, font size is 12.
Main content. In these body paragraphs, you need to sum up the headline and all the story introduced. Leverage your journalist's knowledge if you want the media to use your press release as it is. To enhance the content, consider different quotes, media, hyperlinks, etc. Such media files as images, audios, video clips will make you press release more fascinating. It will help you to grab your readers' or listeners' attention. And while using quotations to your text, you will provide your audience with another person's perspective. It is always useful to show a second opinion.
Boilerplate: Don't forget to include factual data of your brand; tell about your company, it's activity. You can write it once and use repeatedly for different articles and releases.
Final note: This point is essential for publication companies, as it provides them with an extra opportunity for contacting you. Just write: If you are interested in more information, don't hesitate to contact John Doe, (111) 234 567 8-9,

[email protected]

.
Some useful examples
It would be a nice idea to get inspired by press release examples so that you will write your own paper appropriately. Just take a look:
Read the press release by CNN. Its idea is clear and understandable. The heading and the first body paragraph provide enough information about the main subject. And the last paragraph sums up the entire text. So, you can quickly understand if you're going to read this press release, is it useful for you or not.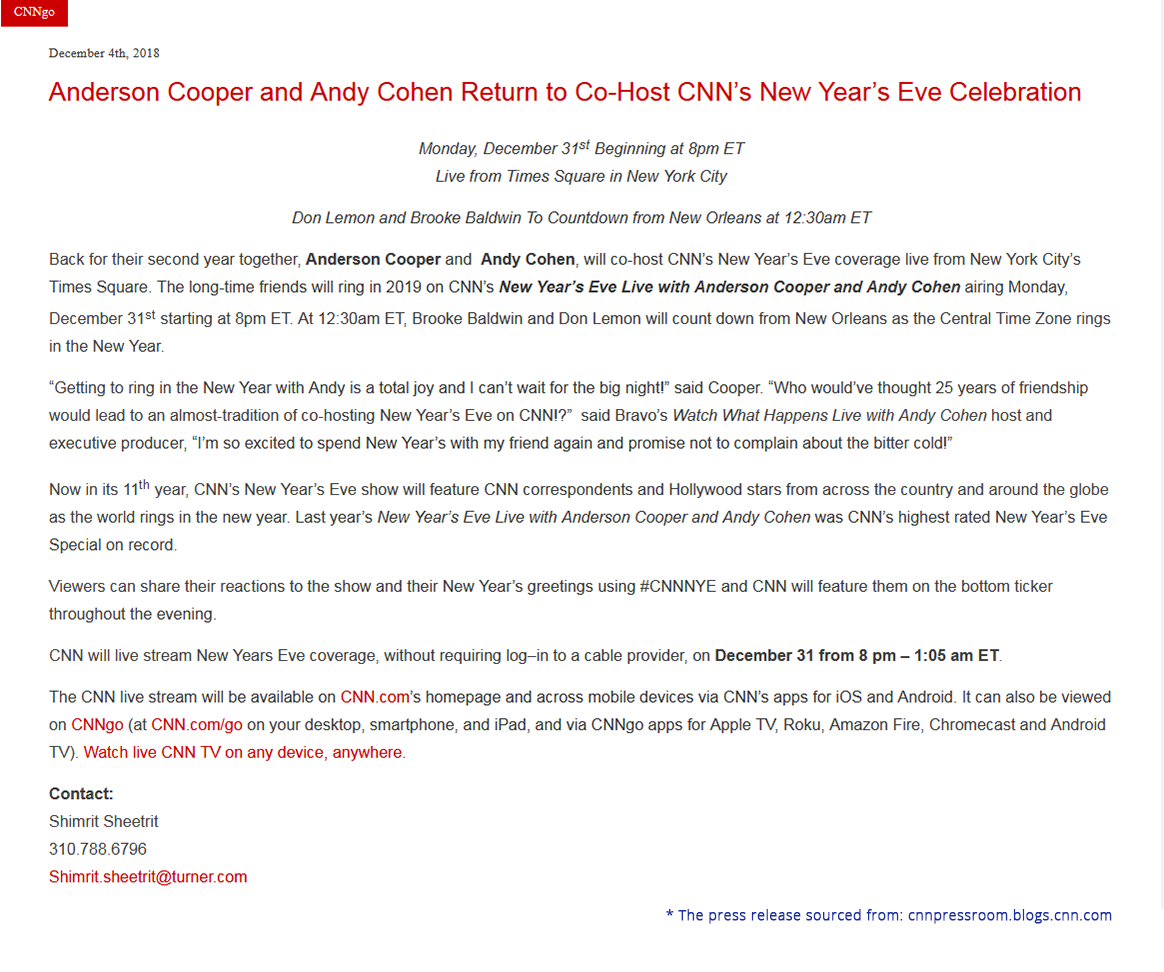 Another good example is BBC press release on the first female Doctor Who ever. It's quite concise and the whole idea is given on the plate right in the title. A short intro to the beginning of the season in the main body intrigues the readers and makes them look forward to the upcoming event with genuine desire. Giving the rough cost of the event in focus is a nice way to inform the reader of the details crucial for them not only as the fans of the TV show, but also as consumers who pay money to get the product. And the positive reviews of the respected third parties so to say make the event seem even worthier of the readers' attention.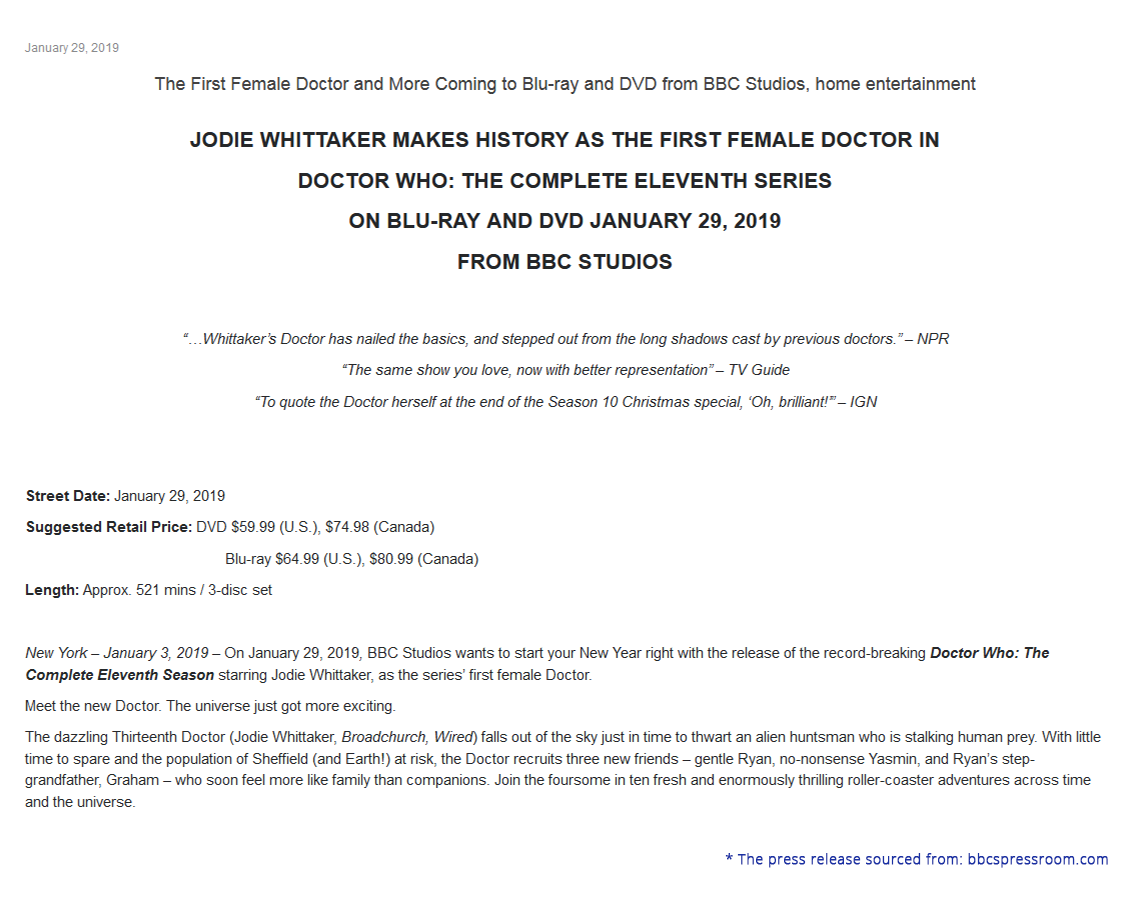 To sum up, here is the common structure. In your press release you need to answer such questions:
For example, Company X will organize a conference for all partners.
Indicate the place and time.
Describe the conference, organization details.
Contact information.
If you still don't feel confident about your writing or you don't have enough time to prepare an interesting and informative press release, you can order a paper. Professional writers are always here to help you to achieve your goals and targets.