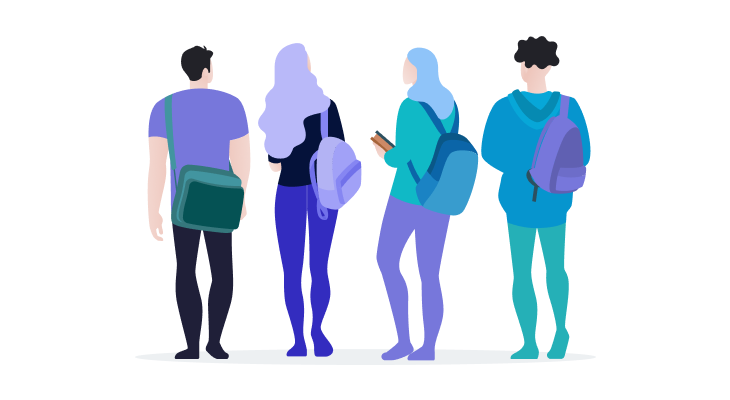 After completing high school, pupils might take the next step and enter college. By the way, it is rather expensive to study in such educational establishments. So, you need to understand whether studying at college is worth it. Statistics data prove that it is needed for everyone. Despite the high prices, and even loans, there are so many reasons to go to college. Why do people try to enter? And what is more valuable than money?
Top 10 Reasons
We even don't say about deep knowledge in the specialized field. There are many more reasons to enter and be accepted. It is believed that years, when you are a student, are the best time of life. Maybe it's true. But at the same time, everyone gets many benefits from studying.
An opportunity to earn
We have mentioned that studying at college is so expensive. But it is a great investment in the future of the student, isn't it? National Center for Education Statistics says that specialists of any sphere with a bachelor's degree and who are the age from 25 to 34, averagely earn $50 thousand. And this sum was four years ago! But the data from the center also prove that specialists who haven't college degrees, earn a little bit more than $31 000. So, once you pay a lot of money, but you will earn more all the rest of your life.
A chance to be employed
Everyone has to pay bills, buy clothes and food, have some money for entertainment and so on. It is a problem when a person doesn't have a permanent salary. Peace of mind can be brought by steady employment. Having at least a bachelor's degree, you won't face unemployment. The Bureau of Labor Statistics provides the following information:
in 2019 2,1% of Americans with bachelor's degree were unemployed;
3,7% of Americans who just completed the school and didn't enter the college, couldn't find the job.
Health insurance
College students have more chances to get a job with the social and health benefits. Health insurance attracts most applicants. Kim Cook is an executive director of the nonprofit National College Access Network. She says that having a degree, the person has more opportunities to support his/her family because he/she can be hired on the job, which provides different benefits.
The reality shows that the more educated is the applicant, the more chances he/she has to be provided with the health insurance by the employer. Approximately half of the people who didn't go to the college are provided with health insurance by their employers. It is said that more than 66% of holders of bachelor's degrees have such insurance, and more than 70% of advanced degree holders have employer-provided health insurance.
New important skills
People should understand that going to college doesn't mean that you will just spend time on the campus, waiting in queues or be involved in noisy parties. There are so-called community colleges that offer technical programs. Students are trained for specific careers by them. College students are allowed to get a degree in two years or even earlier. Depending on the situation, a few months or one year are enough to get a degree. Maybe it is worth spending a year of life for a more successful future career?
Useful meetings
Most often people are hired on a particular job thanks to their social circles. A little bit less than half of the applicants say that they knew about the job thanks to their friends, family members, groupmates, and friends of friends, and so on. Speaking about this reason for entering college, we can mention that:
you tell about yourself among the other students, and they will remember what a person you are;
you tell about your sphere to your family, and once they can speak with someone and offer you as a potential candidate;
you speak with friends who work in different fields, and they also know that you can work in a certain sphere;
one more benefit is that every time you speak with the friends, groupmates of family members about the profession, you have a repetition of your future interview.
Be supported being a businessman
Don't look at the famous people whose career path seems to be simple. All of them were students of the colleges, and they studied hard. Do you want to launch your own business? Lots of colleges have offerings for entrepreneurs. After entering, students will gain hands-on experience. For instance, there are on-campus incubators at Texas A&M University. Their students are supported by the workspace, accounting help, legal counsel, and mentorship. Most of the services are free.
Become more financially independent
Comparing the workers who have a diploma in high school and those who graduated the college, there is an obvious difference in salaries. Specialists with a bachelor's degree are more financially secure. Having a college diploma, a person can pretend on the retirement plan. It can also be said that such a worker will earn more from the real estate, savings accounts, and investments in the stocks.
A wider range of career opportunities
Doors to the wider range of career opportunities will be opened for you; otherwise, they will be closed. Completing the college, the graduator with a bachelor's degree may choose the best offer. In other cases, the person is ready to be applied to any work. According to the report of the University's Center in Georgetown, which is specialized in the education and workforce, approximately all working places were given to the holders of bachelor's degrees after the Great Recession. Specialists prove that there are so many reasons to go to college, especially those which are connected with job opportunities.
An opportunity to meet the love of your life
If all mentioned reasons are not convincing, maybe this one will make the required effect. There are all the chances to find a love of your life in college. Facebook did research, which demonstrates that 28% of married couples met in the college. So, if you don't see any obvious reasons to enter, think about the potential candidates on the place of your future husband or wife. Moreover, people who study with you also choose this certain field. It means that you have common interests, and it helps to make your relations stronger.
Your outlook will be wider
Be sure that for the first time, you will deal with such subjects like sociology, religion, or philosophy. Maybe they have nothing in common with your field and future profession, but you will study them. The knowledge of such disciplines will make the outlook wider. Most employers prove that broad skills are in value. Applicants have more chances to be hired when they have skills of critical thinking as well as problem-solving abilities. Exams, tests, misunderstandings with the tutors, or groupmates make your personality stronger. Moreover, every student has to deal with such problems and find the right way to solve them. It means that you will solve the problems at work better.
Top 3 additional reasons
We hope that now you see how serious and convinced the reasons to go to college are. But there are some additional reasons. They may seem to you simpler, but also sensible.
Visiting sport events
Being a student at the college, people can save their money. It means that most sports events which take place in different universities or local stadiums are free for the students. If they are not, you will pay less than the rest of the attendants.
 You can find the right way
Lots of people don't understand who they are during the first few months of studying at college. Real passions are unknown as well as career goals, professional direction, and plans on life. More than half of college graduators consider studying at the college as the starting point in their professional sphere of life.
Time to have a fun
As we have said at the beginning of the article, the time of studying at college is the best time of life. There can be some troubles, difficulties, and misunderstandings. But still it a time to laugh and speak with the groupmates. Don't forget about the funny traditions which are followed by students from all over the world.
As for Conclusion
It doesn't matter whether you will be a student of the vocational school or community college, there are the same reasons to go to college as you will be studying for four years. All the reasons which are listed in the article will be relevant if you are not after school. Even if you are 25-30 years old, but want to be educated and use all the listed benefits. The reasons are different. One of them concerning the financial benefits and other ones are about the social and career part of life. So, they are usually in harmony, and graduation from college will be a wonderful starting point to a successful life.