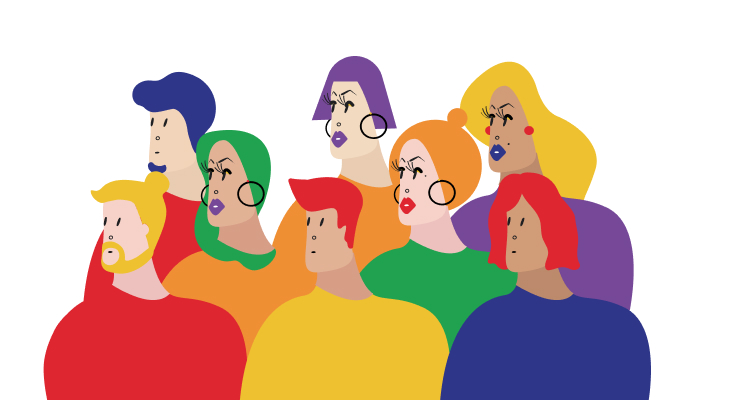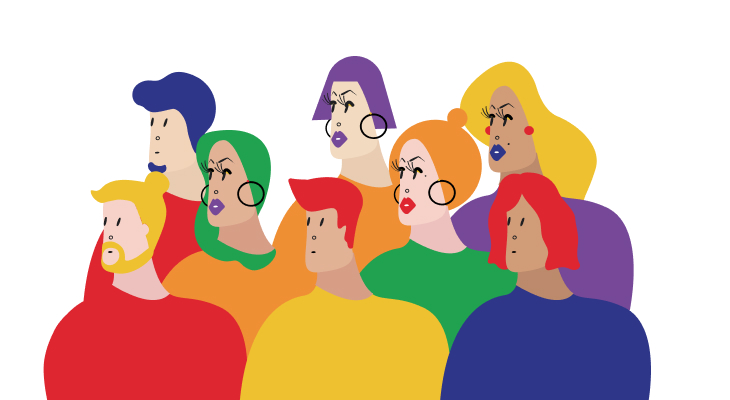 In recent years there's been a shift in attitude towards minorities in the USA. American society started to show more tolerance not only to racial or religious minorities but also to those people who identify themselves as bisexual or asexual, lesbian or gay, questioning, etc.
This shift makes it possible for different groups of people, who's been struggling from discrimination, use the same amenities as others. For example, the issue of quality higher education is now not so problematic for the sexual-orientation minority as it was before.
Moreover, today sexual minorities have a wide range of options for colleges and universities. They can attend special services and centers to help them feel comfortable. Numerous higher educational establishments offer LGBTQ friendly surroundings for such students. And what is important, you can find a suitable college in every state if you want to be close to home or rather live far away.
Definition and Features of LGBTQ friendly colleges
So, we've prepared a comprehensive description of ways to recognize a college where LGBTQ+ can feel up their alley. But first, let us define what does it mean when a college is LGBTQ friendly.
LGBTQ is short for lesbian, gay, bisexual, transgender, and queer. Taking into account that there are other sexual identities besides those 5, which are included in the abbreviation, people sometimes use the term LGBTQ+. However, don't take it personally if you see just LGBTQ – it is not meant to interfere with your rights in any way; it is just a commonly used contracted form.
As we move further, let's overview factors which signalize to you that this or that college might be suitable for your gender and sexual identity.
The following factors have been taken from the Campus Pride Index, which has been introduced by the Campus Pride organization. This organization is a national entity, which aims to create a safe and comfortable study environment for LGBTQ young people.
So, according to the Campus Pride requirements for LGBTQ friendly study environment, colleges must provide:
Inclusion policy – when a college or university creates a welcoming environment for minorities with a clear indication of gender diversity.
Student life – means that LGBTQ+ students must have access to various out-of-school activities that are held on campus. They should be able to spend their time with fun in the same way as heterosexual students.
Academic life – is about having courses and topics on diversity in order to educate students and develop tolerant attitudes to sexual minorities.
Campus safety – special policies should be introduced at the campus to protect LGBTQ students from harassment. Other participants of the educational process must be aware of the consequences of bullying sexual minorities.
Support and institutional commitment – means that students should not just be able to enter the university irrespective of their gender orientation, but also feel support from the college. College support can be understood as an official prohibition against discrimination.
Counseling and health – refer to healthcare facilities, which should be available at universities to provide LGBTQ+ students with adequate curing or consultation relevant to their needs.
Housing – when colleges allow inclusive accommodation, which allows students to share rooms or restrooms without regard to their gender.
Recruitment – means that LGBTQ+ students should have the opportunity to be accepted to a college for their merits, no matter what gender they identify themselves with. The same refers to staff members – people should be hired if they match academic demands and not their sexual orientation.
Other ways to recognize LGBTQ friendly colleges
Besides the factors listed above, there are other things, which characterize a college as LGBTQ friendly or not:
Availability of scholarship or grants for LGBTQ students;
Existence of a supportive association or community outside the campus, which third gender students can attend after graduation;
The geographic location of a university or college.
Anyway, whatever general recommendations for LGBTQ friendly schools are, define for yourself if you can answer the following questions positively. If so, then you are on the right track of your college choice:
Will decent healthcare be available to me?
Will it be safe for me to live in the dorm?
Shall I be protected by the college administration?
Shall I have somebody to hang out with?
List of LGBTQ friendly colleges
Even though there are more facilities for such students to feel safe and protected nowadays, statistics show that LGBTQ students face much more oppression and bullying than straight people. That is why find our selection of colleges, where you can use all the benefits of higher education without being mistreated, because of who you are:
The colleges are presented in the alphabetical order for the convenience of use:
Amherst College (Massachusetts) of 5 members of a support group called Trans Active. Its LGBTQ+ students meet with the same students of other schools of the group to communicate and support each other. Amherst College has Queer Resource Center with a large library with books and films on saving sex and a lounge for queer students to spend time. 
Babson College (Massachusetts) 4.5 rating, according to Campus Pride. Its students take part in the annual Boston Pride parade. Lots of events are held for the LGBTQ community (LGBTQ Action Group, LGBTQ History Month, etc.).
Columbia University (New York). Lots of resources for transgender students (education opportunities, health care, etc.). Organizes Transgender Awareness Week to greet its LGBTQ community. Promotes campus advocacy and safety.   
Davidson College (North Carolina) 100% of students of this college live on campus during all years of studying. For now, the college is not ideal in its LGBTQ policies, but still provides strong direct support to trans students and holds social activities. 
Emory University (Atlanta, Georgia) advocates LGBTQ friendly policy. Has the Office of Lesbian, Gay, Bisexual, and Transgender Life on campus, which provides annual events and weekly discussion groups. Its students can get free legal help with the name change and other services. It also offers courses on gender and sexuality. 
George Mason University (Fairfax, Virginia). That is interested in its ranking by Campus Pride and is determined to make it even higher. It offers gender-related workshops, training, etc. Its students have the opportunity to live in gender-neutral housing. Financial aid is available for transgender students.
Harvey Mudd College (Claremont, California) A Queer Resource Center, where students can study in a special lounge, use the queer library and swap closet, etc. Students of this college can also be involved in such events as Gamer nights, Queer fashion shows, and others.
Indiana University Bloomington (Indiana) Lots of places for queer and transgender students to spend time together. Provides courses on sexual and gender diversity issues. Offers lots of scholarships and awards due to their LGBTQ+ Culture Center. 
Johns Hopkins University (Baltimore, Maryland) Well on its transgender policies and advocacy activities. Has Safe Zone training. Its medical students advocate for more inclusive medical treatments for LGBTQ.
Kansas State University (Manhattan, Kansas) Respect, equality, and social justice. It provides lots of events to create an inclusive community. It has a safe zone program to create a safe environment for minorities. Offers scholarships and housing suitable for trans. 
Lehigh University (Bethlehem, Pennsylvania) Committed to supporting its transgender students by sound policies of non-discrimination.The Pride Center on the campus organizes lots of programs and events. 
Macalester College (Saint Paul, Minnesota) Five scores from Campus Pride. It provides a healthy environment for LGBTQ students due to non-discrimination policies. It has gender-neutral bathrooms and housing options. 
New York University (New York) Wide range of events, training, scholarships, lectures for students, who identify themselves as homosexual, bisexual, etc. Its LGBTQ Student Center has numerous social options for its participants. 
Oberlin College (Oberlin, Ohio) Was the first college to accept African Americans and women, and now it is also one of top-ranked LGBTQ friendly colleges. Each year they organize Queerfest to greet sexual minorities with lots of shows, concerts, and discussions. 
Princeton University (Princeton, New Jersey) LGBTQ community. Provides students with support in academic life, mental health, and social wellbeing. Sexual diversity students, as well as other minorities, can find a group to hang out with.
Rutgers University (New Jersey) Almost a perfect rating on Campus Pride. It offers LGBTQ education, housing, events, as well as resources for gender-neutral housing, Queer Student Alliance. 
San Diego State University (San Diego, California) Organized Pride center of the university is aimed to facilitate the social and academic life of transgender students. Holds movie nights for LGBTQ students, Safe Zones, Ally Training, has a Trans Book Club, etc.
Tufts University (Massachusetts) LGBT Center, where students can take part in confidential conversations with staff, use educational materials, and so on. There is a Rainbow House on the territory, where transgender students can safely live together with other trans. 
University Of Utah (Salt Lake City, Utah) Students can select an LGBTQ-friendly roommate, provides gender-inclusive housing, programs, and support. At the university, they train academic staff and other employees about LGBTQ issues. Students have equal opportunities for national scholarships regardless of their gender identity. 
Vanderbilt University (Nashville, Tennessee) Education on transgendered topics organizes events and activities for LGBTQ students. Supplies resources and support to create a safe and inclusive environment. Holds annual events to welcome LGBTQ+ students.
Washington University in St. Louis (Missouri) Events, where trans students work on identity expression and leadership (like Destination Q retreat). Organizes communities, which connects LGBTQ+ students from different faculties.
Tips for selecting LGBTQ friendly colleges
If you are bright-minded young people, who refer themselves to diverse gender identity, but can turn their talents to the good of the country, you should have the right to develop your talents. This may be one of the reasons for the positive shift in attitude towards LGBTQ+ at a government level.
So, we decided to help you find your place by offering several tips you may use while selecting a suitable college:
Create a list of requirements towards the educational institution you want to study at.
Don't try to choose a college which possesses all the general characteristics for LGBTQ students, opt for the college, which meets the demands that are crucial to you.
If you have such an opportunity, talk to students who study at the college, which you consider entering, to find out about the environment there from the inside.
If you happen to visit the campus, don't forget to find and investigate a Pride Center and what it offers to students like you.
Let's hope that our guide on LGBTQ friendly colleges will be of great use to you. And no matter which gender you refer to, with the right choice of school, your education will be an exciting process within a safe environment and supportive community.