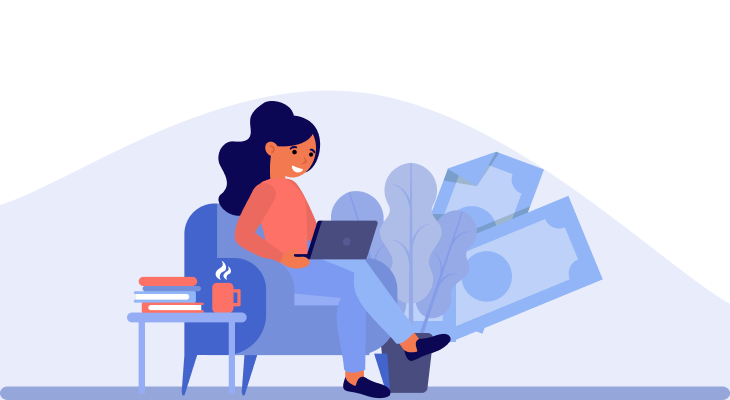 In the same way as a banner, a title of an essay works as an advertisement. A catching title is like a magnet for readers, which makes them want or not want to read your essay and find out what it is about. Successful titles should be creative and informative, as readers need to both feel encouraged to read your text and find out what is going to be described.
However, all men can't master good titles from birth – someone is good at it, but it's a skill that should be acquired through practice and training for most people. And when you get an assignment to write an essay or a research paper, it might be a real challenge to come up with a title for it. You basically need to create a face for your essay. We are not trying to intimidate you; quite the opposite, we will show you how to get a handle on this task. Just be patient, and read our tips, and you'll be the wizard of titling.
Creating Essay Title from Zero
Students and writers often don't pay enough attention to the title of their work at the beginning of their career. And it's a huge mistake, as the role of a title is difficult to overestimate. People judge a book by its cover, and it's not only a figurative meaning. It happens a lot that great essays are ignored because of trivial titles. This logic is applicable to academic works in the same way.
The title works as a hook for readers. And it predefines if they are going to scroll down to the text. It may happen that a catching title may persuade people to find out more, even if they had no intention of reading the work before.
In most cases, your essay or any other piece of writing has only one shot to be accepted, and it is the moment a reader looks at the title. So, you need to be well prepared for such a course of events. It's better to start working on the title before writing an essay. You may modify it in the end, but for the beginning, it is your lighthouse, which will guide you during the whole process of writing.
So, below we've prepared three main points for you to consider when creating a title. Make use of them, and your essay will attract the audience, like an advertisement attracts visitors to a place (of course, if the plot itself is well-built):
Your title should summarize the idea of writing.
Use a trigger to draw the attention of the readers;
Make your title distinguishing.
Three Don'ts for a Good Title
Pay attention to the recommendations below to learn how to title an essay efficiently:
1. Don't Make It Complicated
Try to keep it short, but clear. The primary task of any title is to name the work. That is why you don't have to expose the whole story in the very beginning. All you need to do is to summarize it in a few words. Your essay title should be comprehensive and short-spoken, in the same way as a catchline of a movie or a header in a magazine or newspaper. Simply find the right words to make your audience understand the point of your essay.
2. Don't Use Inappropriate Words
It's a challenge for some people to start writing; for others, it's difficult to stop when it's necessary. A clever and catchy title shouldn't be wordy or too complicated. It means you should only use those words, which are really relevant. Do not waste your readers' time with hollow words, but stick to the point. Don't forget to include some main keywords, which will act as a hook for persuading readers to continue reading.
3. Don't Include Fancy Language or Abbreviations
Essay writing is a serious academic assignment. So, why being careless and use slang or jargon in it? If you want to look smart indeed, there's no need to use little-known abbreviations for the essay title. Only well-understood shortenings can be used, but still, it's not a good idea. You are not likely to impress the audience using cheap tricks but scare them away. You must care about your readers when composing the title; only in this case they will feel it and might want to read the whole work.
Features of a Sufficient Title
One more aspect to consider before working on your essay tile is its qualities. You must know what characteristics should be incorporated into a good one. So a proper title of an essay has to be:
Visually striking – as we already mentioned, in most cases, it will depend on your essay title whether people decide to continue reading or pay no attention to it.
Trustworthy – very often, students and dabbler writers are so focused on drawing readers' attention that they do it by whatever means necessary. Sometimes they even make attractive titles by pulling away from the truth. As a result, people are getting angry after reading such works, as they feel like being fooled by the author. This is especially not proper for academic works, as your professor will be irritated by such a trick.
Easily readable – be it a professor or other readers, a long and complicated title will not appeal to either of them. Try to do without confusing phrases and highly tailored terminology in the title of your essay.
Active construction – if there are verbs in your essay title, make sure to avoid passive voice. Otherwise, it will not seem like you are speaking to the reader, and your essay will look cold-eye. For example, instead of using: "Video games can be applied at schools as a part of the educational process", it's better to say: "Schools can apply video games as a part of the educational process".
Concise – Long titles don't show your expertise. Quite the opposite, they just demonstrate that you can't get the better of the text. So, try to be brief. It has been well said that brevity is the soul of wit.
Relevant – No matter how desperately you want to grip readers' attention, or whatever other reasons you have, never use a title, which is not relevant to your essay plot. An inaccurate essay title will confuse your audience, as they will feel like being misguided by your text. Always give a clear picture to your readers about the text to come.
Important Rules for Titling
Here are some more pieces of advice for you to look through before proceeding with your writing:
Give a title to each section of your essay. Create subheadings in the course of writing to identify your paragraphs. It will help you to order the text properly and make it look structured and clear.
Capitalize only meaningful words. You can use capital letters for the first letters of every word in your title. The exception here is form words, such as articles, pronouns, conjunctions, and prepositions.
Do without underlining the title. If your topic is in boldface, it's not a good idea to underline it additionally. It will be too much. If you need to underline the title, then don't use boldface.
Double-check the title. When you narrow down the final version of the title, don't forget to check grammar, spelling, etc. Determine if your title describes your work in an accurate way.
Apply colon only if it's justified. If you've picked 2 catchy topics, use a colon to separate them.
Clever Essay Title Ideas
Don't know how to come up with a good title for your essay? We have a selection of ready examples for you. Select any title from our list and be assured that it will make the readers want to dig deeper into your work. These are eye-catching titles able to draw and grip the attention of the audience
Attractive Titles for Your Essay
Both male and female players should take part in team games;
What is the similarity between jails for humans and Zoos?
Positive aspects of wars;
Why school uniforms are not needed anymore;
Why are there more drug addicts in developed countries?
Usage of swear words on the Internet;
Natural disasters: God's punishment or logical outcomes?
Internet technology brainwashes people;
Benefits and drawbacks of globalization.
Convincing Essay Titles
Strikes and riots promote social development;
Illegal immigrants jeopardize the economy;
Folk medicine vs evidence based-medicine;
Horror films must be restricted for children;
Commercials in social media must be checked for relevance;
TV is the key reason of violence in modern society;
Superheroes from movies will not bear the real world.
Argumentative Titles
Anorexia must be fought by means of society's efforts;
Death sentence must be available in every country;
Not all people of voting age should be allowed to vote;
Peculiarities of national mindset or Nations, which can't live without corruption;
Positive and negative effects of steroids;
Is the ability to write well a practical art or a natural gift?
French is one of the most difficult languages to learn;
Low doses of alcohol stimulate the brain;
Education System of the USA is a considerable help to students from underdeveloped countries.
Final Note
It is not like we are trying to persuade you that only the essay title determines your work's success. It's wrong. We are only doing our best to show you how important it is and how it impacts your essay's further fate. So, as the final push, bear in mind the following four functions a good title should perform:
Predict the content of the essay;
Grab readers' attention from the very beginning;
Reflect the tone of your writing to the potential audience;
Include key words and phrases for better detection by the researchers.
Besides the above-mentioned rules, you should also remember that writing a title is not a 5-minute process. It is a serious task, so treat it like that. Writing an essay is like sculpting a model – every item should be measured and polished, including its title. Compressing the whole message and idea into one brief but still gripping phrase is also a mastership. So, if your deadline is not too short, hold your horses and work on your essay title without haste.
However, if some questions are left, or you need professional paper help, don't hesitate to seek it here on our expert writing platform.