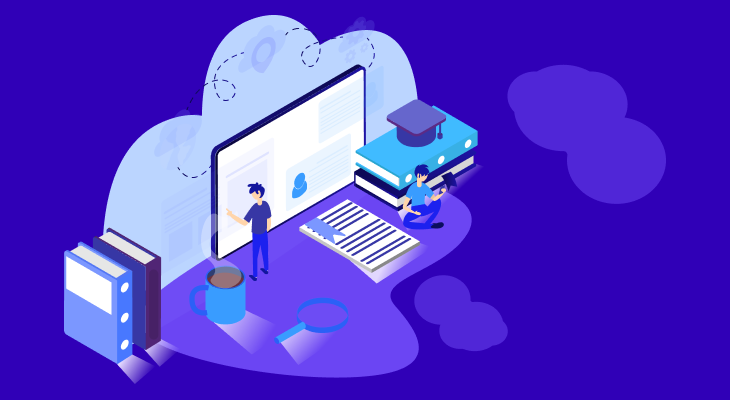 Why is it so difficult to select a good topic for a research paper on computer science? IT technologies and computer science are constantly developing. So, it's extremely challenging to keep track of updates and new features, which appear almost every day.
As a result, lots of topics, which are floating around the Internet are either outdated or threadbare. We know that it's very important to write about trending topics and, at the same time, do your share in the research instead of repeating what has already been described by others.
For this reason, we've managed to collect some ideas for your Computer science research paper, which are always all the rage and could be further studied.
Running short of time? Then waste no more – just get in touch with our team of certified writers, and have them cover for you!
What Kind of A Research Paper is it?
A research paper on computer science is an academic work, which deeply examines particular aspects of information technologies, and is aimed to study and investigate practical sides of computer science and its subdivisions.
Such research papers are often written by scholars or scientists. When students receive an assignment to write a paper on computer science research, they are usually supervised by professors or mentors.
Computer science research papers also require writing an Abstract, where you summarize the most important aspects of your work, together with the obtained results. The abstract should be brief, but informative and convey core ideas of your paper about its relevance, ways to solve the problem you investigate, and expected results.
Here's an example of a sentence you can have in your abstract: "According to the results, our approach reduces the glitches frequency to 10% when compared to the current state of things."
What about the Structure?
The section below should be included in a research paper on computer science. However, it doesn't mean that you must exactly follow this pattern, as sometimes certain sections can be mixed or joined into one part.
Anyhow, don't omit any of these items, as they are important to understand the contribution you make to the development of science by means of your work.
Introduction, where you outline the content of your paper and demonstrate its relevance.
State-of-the-art describes the current state of things in the field studied and gave insight into the latest advances.
Problem motivation, where you point out the problem investigated by your paper.
Solution – shows how the problem can be addressed.
Proof – in this part, you justify that the means you've selected can really solve the problem.
Related work – this is the part where you mention analogous studies of the same problem and compare the similarities or differences. Remember, though, to keep objective and avoid criticizing the works of others by praising your own.
Future work – is not an obligatory section. However, you can include it and provide ideas on how the problem can be fixed in the future, or what other directions you consider as important for further examining.
Conclusion is the bottom line of your research paper, aimed to highlight core points.
Tips to Make your Computer Science Research Paper Prominent
Formulate a compact and precise title, which will clearly indicate what your research is about. 
Use examples to make your science work more vivid and prevent your readers from getting overwhelmed by the interminable theory. 
Include the description of practical effects to show the readers how your discoveries and data can be applied in real life. 
For instance, using 3D bioprinters, as an alternative to organ donors or applying computer-aided calculation to blood and urine tests. It will make your science research paper more reader-oriented and pro-social.
Pay significant attention to your abstract. Being one of the most prominent parts of your computer science research paper, it determines whether you catch the attention of the audience or be quickly rejected. Make sure the key point of your paper is covered by a few sentences. So, include only paramount results here. 
Don't feel like you can do it on your own? Take it easy and request help from our writing platform.
How to Choose the Right Topic on Computer Science Research?
Decide if you are interested in working on it. Areas, which don't sit right with you, can be difficult to go into. Whereas subjects you are keen on may bring out the best in you as a starting investigator.
Be sure to understand the topic you are about to select. Of course, you are going to investigate the information for your computer science research paper, but the amount of information that is already familiar to you will determine how much time you will need to complete the research.
Brainstorm the ideas for sub-disciplines on computer science. There are so many fields where computer technologies are used nowadays. Try to think of the subjects, which intersect with computer science, like biology geology, space exploration. And you will find some interesting directions, which are still unhackneyed.
Check if there are enough sources of information available. It may happen that the data on your subject is few and far between. Consequently, you will have work cut out for you. So, give preference to the topics, which don't lack the information.
Avoid broad topics. On the contrary, with too broad areas, you will get confused by the information flow and may omit important details. Try to focus on subareas instead.
Need help with your research paper on Computer Science or any other subject? Just submit an inquiry, and we'll give you a hand.
List of Topics for your Computer Science Research Paper
Online streaming platforms and user's consumption of multimedia;
Safety of modern encryption systems;
CRM systems for trade business;
Computational intelligence for face identification in mobile devices;
Cyber-attacks on international companies and their prerequisites;
Algorithms of contextual ads and their interrelation with psychology;
Information retrieval and data mining;
Computerized stock market prediction mechanisms;
Pros and cons of cloud storages;
Render farms as a new digital business;
Password managers in the age of globalization and throughout synchronization of devices;
Virtual reality devices as present-day developments;
Face recognition technology for quick shopping;
VR helmets and influences on children's perception of reality;
Comparison of computer-assisted education in high and primary schools.
Correlation between private data and digital security;
Reasons for existing of so many programming languages;
Evolution of search algorithms during the past ten years;
Computer viruses of a new generation;
Peculiarities of mobile versions of websites for portable devices;
Online medical consultations and possible treatment without personal contact;
Mobile apps, which we can't do without;
Constant competition between Windows and IOS: Which OS is more promising?
Biometric passports and the future of travel;
Computer technologies in art;
ATM transaction and bank operations security;
Robotic technology in the future: what should we expect from the evolution of this sphere;
Are we more close to artificial intelligence?
The interrelation between computer technologies and travel industry;
The future of microchips for tracing.
If you already have the topic but feel desperate about working on it, we have the solution for you – our team of writers consists of pro-grade specialists, who have delivered a good deal of top-quality works to students.
Where to get information?
Taking into account that most computer-related topics are constantly updating due to the fast development of this field, you have to go for the information sources, which are always up-to-date.
Browse the Internet, but remember to pay attention to the publication dates of the articles;
Attend computer science seminars, which are relevant to your topic.
Download books to read and analyze the issue you are writing about, and use bookmarks for the most suitable information.
Visit computer science research databases – there you will always be provided with only fresh information and be informed of the latest news in the field. 
Such academic databases can be of 2 types: interdisciplinary and specially devoted to computer science. The latter can include similar papers, journal articles, conference materials, technical standards, abstracts, etc.
We Care about You
We did our best to provide you with the most useful information for writing your computer science research paper. However, we can do more than this to help you get an A+ for your assignment. Our qualified writers can deliver to you a professionally written paper in any field.
Ordering from our writing service will make your research paper stand out. All our works are quality and plagiarism-free. You can be assured that no grammar mistakes or wrong formatting spoil your mark, as professionals will take care of your work.
Thousands of students around the globe have already rated our service highly and gained from working with us. Will you be the next one?