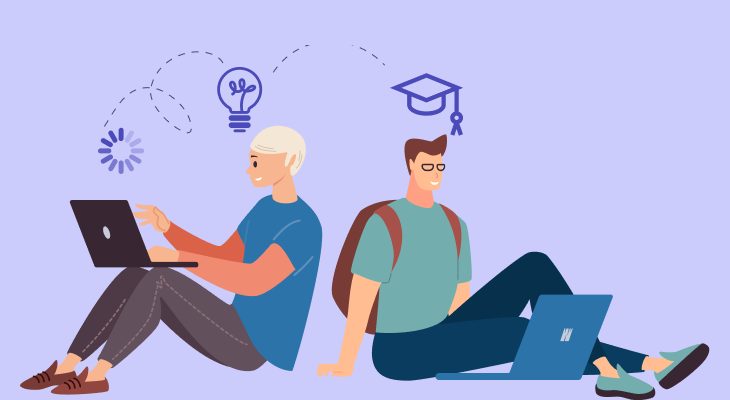 Entering college, each student should provide a large number of documents. A college essay is among them – this is an important paper that helps the admissions committee learn more about you. In the essay, you need to describe your values, the impact that you had on your friends, family, educational institution, to show how you think. This is the first opportunity to impress, interest the commission in your person and stand out among competitors.
Reading your essay, commission officers are looking for answers to 3 questions:
Who is this person?
What benefits will this person bring to our campus?
Does this person have writing skills?
In the process of preparation, you will have to face two important tasks: the right choice of topic and organization of the structure. We will help you to cope with them and to impress the admission commission!
There are several steps and exercises that will be useful for this purpose:
Organization
Your first step is to understand the task in as much detail as possible. To write a good essay, you can be guided by the Common ap or the app of a particular educational institution. The requirements may vary at different colleges, and it is important to be prepared for this. Otherwise, you will write an essay that is useless.
If you plan to write essays for several colleges, make a table. Write the name of the college, basic requirements, and deadline. This will help you stay organized.
Start in advance
Make sure you have enough time to write an essay. Sometimes only one personal statement takes about 10 hours, or even more. Therefore, it is better to start writing an essay at least 2 months before the deadline. After all, you don't want the selection committee to waste time on an essay that you didn't manage to finalize properly?
Prioritize
You can start with an essay that has the earliest deadline. If the deadlines are about the same everywhere, prioritize according to your desires. The order of writing also depends on the volume. Some colleges want you to provide short answers up to 100-250 words. Others require an essay of 500-700 words. Cope with the first will be faster and easier. So start with the second to have a margin of time. In addition, when pondering a long essay, you will come up with answers to short questions.
Do not write the same college essays for different educational institutions. Each should be unique and personalized, reflect your desire to study in this particular college.
Brainstorming
A brainstorming session will help you find plenty of ideas for your college essay. This is one of the most effective methods, suitable for solving any creative problems. You need to plan time and write down absolutely all the ideas that come to mind. The first 10 will be simple and commonplace, then you will come up with something more interesting. Write out all the ideas and you will definitely have plenty to choose from.
Consider prompts

Each college provides students with useful prompts. They suggest different situations, ask questions, offer several options to choose from. Consider them to succeed.
Think about your life experience
Your academic performance is not the only merit and reason to be proud. Think, how you can interest college commission? What is your experience, interest, a talent that can describe you as a person? In college essays, you need to talk about hobbies, work, extracurricular activities, friends, what formed you as an individual. Think also about what sets you apart from other applicants. This may be a love of Turkish TV shows or affection for a football team.
If you want to write about a really important dramatic experience, make sure that you are comfortable talking about it. It makes no sense to touch on the topic, but not to reveal it completely.
How do you see yourself?
There is another useful brainstorming method – analyzing your personality. Imagine that you are in an interview and must sell yourself. What specific qualities can you describe? Remember the situations when you showed them.
Narrow down your list
After brainstorming, you have a list of good topics. How to understand which one is the same? Here are some suggestions to consider:
How important is this to you? If the topic is foreign to you, readers will not be able to penetrate it. But you should not choose a topic that will matter to the whole world. It must be something personal. Essay on achievement, an important event that changed you. So you can open up and show the commission your value.
Aren't you too obvious? When you enter college, you fill out a form where you indicate a large amount of personal information. Previous places of study, extracurricular activities, and awards. Do not force officers to read it again in your essay. Uncover something more personal.
Are you specific enough? Your essay should be narrowly focused. Even if the set volume seems large, it actually fills up very quickly. And if the topic is too broad, the essay will turn out not very high quality. It is better to choose one narrow idea and study it deeply in the writing process.
What about the details? It's not enough to say that you've eaten a delicious dessert, it's much more interesting to talk about how happy you were to try an amazing piece of strawberry pie with a crispy crust and a filling that left a pleasant aftertaste. Therefore, if you can't write about your experience in detail, choose a different topic. You should not bet on problems that are difficult for you to talk about. Any experience should be worked out and only then presented. If you write about family problems, parental illnesses, and other important issues, be open and honest.
After answering all the questions above, you can find the very topic and write a killer college essay.
Write the college essay
It can be difficult to decide on a topic, but usually, it is the most difficult part of the writing process. As soon as you find your own topic, the process becomes much easier. Sometimes words seem to pour out from under the pen or keyboard keys.
But you still need to stay focused and follow a clear structure. Remember your motivation. Do you really want to study at this college? Then show your best skills. Show that you have a good command of the language, are able to express your thoughts, argue the point of view and draw conclusions. The admission committee is looking for adults and self-sufficient students who are ready to cope with difficulties and benefit the campus.
Start with an outline
Develop a scheme that helps you stay organized and follow your plan.
In the case of a college essay, you do not need a long intriguing introduction. Start right away with the fun part to impress the reader. Then you can go back and explain in more detail how you got into this situation. Describe how you managed to solve it, what conclusions you made. In conclusion, tie everything together and describe the consequences. How has this experience affected you? Did it help you get better, redefine your life?
Write your first draft
Do not expect to write the perfect essay on the first try. Let it be a draft. You can make amends and rewrite the paper later.
Each student writes in his own way. Someone starts over and completes the essay. Someone breaks the paper into several parts and describes each of them in turn. All these methods are good if they suit you and make the task easier.
Edit meticulously
We've already mentioned that you need to start in advance. The process of writing an essay itself will take several hours, but after that, you will need to postpone the paper for several days. Then you can make objective corrections. This applies not only to spelling and grammatical mistakes but also to the essence of the text. Ask someone to read it and express their opinion. Don't forget about the double-check.
Ask for a professional help
Not all students do well in writing. Sometimes the reason lies in the lack of writing skills, and sometimes there is simply not enough time. Therefore, we created our service to help such students. You can order custom paper, particularly college essays at an affordable price by us. After that, you don't have to google "write my essay" every time, because we are always here to help. Our service works with professional authors who have written more than a dozen college essays. We guarantee high-quality paper and meeting deadlines.