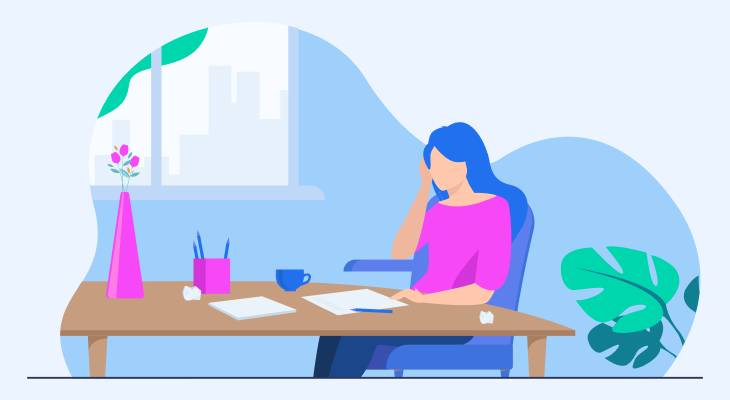 A 500-word essay is a common assignment in college. For some students, this task may be easy and engaging, while for others, it seems a total disaster. Of course, a lot depends on your writing skills and the topic you must cover. Some people experience significant difficulties while dealing with written assignments. Do not worry! Our simple and effective tips will help you cope with difficulties and produce a perfect paper.
How Many Pages is a 500-Word Essay?
The first question every student will ask is "how many pages are there in a 500-word essay?" If you apply APA formatting style, your essay will take around one page and a half or a little bit more. The spacing is usually specified by the teacher, and it will affect the total page count. While working on your essay, make sure that you follow the required format.
Word count is also specified by the professor in most cases. It doesn't mean that your essay can't contain 503 words. Of course, you can deduct or add a few more, but try your best to comply with the requirements. It is recommended to use word counters to make sure that everything is just right.
500-Word Essay Formatting Style
Your teacher will probably specify what style of formatting you need to use in your essay. If there are no specific requirements, you can apply standard formats.
It is common to use double-spacing for different papers, including essays. Double spaces will make the whole text more readable.
As for the font, use Times New Roman. Most scientific works use this font as it is easy to read. The optimal font size is 12 pt for the whole text. This is not very small and not too big size, so the text is legible. Besides, it will allow you to include many words on one page.
Use one-inch margins for each side. If you need more information, read about the MLA format or other styles that may be appropriate in your case. If your teacher gave you the specific requirements, follow them strictly. Proper formatting will influence your grade.
Guidelines on a 500 Word Essay Structure
Prepare an outline. It will serve as a framework of thoughts and ideas that you think are worth including in your essay.
Start working on an introduction. Describe the subject of your essay and make it interesting. You should draw your reader's attention and make him want to read the whole essay. The introduction should be clear and concise, with no more than two sentences.
Proceed to the main body. This will be the largest segment of your essay. In the body, you should present and discuss all the main points. Base the content on solid and relevant information. Opinions matter, but they are not enough. What you need are facts and data. Make sure that you use reliable sources when gathering information.
Finish with a conclusion. This will be the last part of your paper and the reflection of your work. In some ways, this is the most critical segment. Here all your points come together and form a thesis. Make sure that you don't simply repeat the information discussed in the main body and don't present completely new information. Your conclusion should prove that the essay was worth reading.
Things to Avoid While Writing a 500 Word Essay
Avoid informal language. Remember that this is an academic paper and comply with the requirements.
Do not plagiarize anything. As you probably know, plagiarism is illegal. It is considered a very serious offense that may cost you grades or admission to college. Use quotes if you need to mention someone else's opinion.
Do not exceed the word count by more than 50 words. If you fail to follow the instructions and write a significantly longer text, your essay will be discredited.
Avoid using such phrases as "there are", "there is", etc. This is simply unnecessary. Without these phrases, you can build stronger sentences.
Do not concentrate all of your attention on word count. This may lead to unnecessary stress, distraction, and absent-mindedness. Focus on the points you would like to discuss in your essay. Remember that you can always shorten the text or add a few more sentences once you finish writing.
Things to Keep in Mind for a Good 500-Word Essay
If the theme is not specified by the teacher, choose a topic that engages you. It will be much easier to complete the assignment if you are genuinely interested in the subject. Take time and pick a topic wisely, without hasty decisions.
Find relevant sources of information. You should demonstrate your knowledge on the topic and deep understanding of the things you write about. Make sure that you use trustworthy materials. Remember that thorough research is necessary for a top-quality paper.
Make your essay unique. We are all different, and each person has their style of writing. Following the requirements is important, but at the same time, you should try to add some zest and let your way of thinking be distinguishable. Don't try to copy someone else's style; nothing good will come from it.
Use strong verbs that are specific and descriptive. It means that instead of "look forward," you should use the word "anticipate", or instead of "made the arrangement," write "arranged," and so on.
Read some examples of good 500-word essays to understand how they are constructed and how to express your opinion in an organized way.
Consider your target audience. Who will read your paper, and what will their expectations be? Put yourself in your reader's place: what would you like to learn?
Try various argumentative strategies to make your essay more convincing. Read about logical reasoning and try to employ this tactic in your work. Will your readers be able to follow your line of thinking?
Proofread the essay. We recommend you to take a nap before proceeding to this step. No, we are not joking. It is necessary to clear your mind and start correction with a clear head. If you start proofreading immediately after you finish the 500-word essay that took around 4 hours to write, you are likely to miss some errors and shortcomings. It is better to leave the proofreading part for the next day.
Interesting Strategies for Your 500 Word Essay
There are different approaches when it comes to proving the statement. To make your essay more persuasive, and present all the points in an organized way, consider trying these three strategies:
Direct order of your points (from strongest to weakest).
This strategy will allow you to draw the audience's attention immediately. Just make sure that they don't feel disappointed in the end. If some of your points are too weak, consider excluding them at all.
Reverse order of your points (from weakest to strongest).
Start with something less convincing and proceed to the strongest point. In this case, make your introduction attention-grabbing to distract the readers from weaker points.
Turn everything inside out.
This strategy is very interesting and effective. Try hiding the most convincing point in the second paragraph, mix it with weaker points. Your essay will be like a muffin with a delicious stuffing inside.
As for a concluding part, here are some good strategies too:
This approach is the simplest one. In a few sentences, you can provide a full picture of your essay for your audience.
Insert a provocative question.
To motivate the readers, add an intriguing question. Make sure that this question is appropriate and closely related to the topic of your 500-word essay.
Paraphrasing the thesis statement will give your audience a feeling of completeness. Don't repeat it letter for letter, reword it.
Provide the readers with a hint concerning the development of the essay. Make it small and intriguing to simulate the reader's interest.
Insert a quote. This strategy may be banal but quite effective. On the subconscious level, we tend to trust famous people and their viewpoints. This is a nice way to add credibility to your paper.
Topic Ideas for an Interesting 500 Word Essay
If you find it difficult to select a good topic for your paper, here is the list of examples that might inspire you. Choose the subject that seems engaging or create a unique one!
Love and passion: are the same things?
How can love change to indifference or hate?
How does friendship affect character and values?
Is hard work necessary for success?
Does slavery exist in the modern world?
Technology: helping or harming?
Ways to stop animal extinction
Modern ecological problems
What causes global warming?
What is success?
Pros and cons of homeschooling
Pros and cons of online friendship
Effective ways to prevent conflicts
Is it better to be smart or beautiful?
How to become fulfilled?
Is modern art meaningful?
Racism in a modern society
Street families and their challenges
How do drugs impact teenagers?
Why is honesty important in life?
Can money change people?
Describe your plans for the nearest future
Describe the happiest day of your life
Describe the most challenging situation you've experienced
Describe your role model
If you still find the task of writing a 500-word essay challenging, consider hiring our specialists. They guarantee top quality essays free of plagiarism and errors. If your deadline is approaching and you've had enough sleepless nights, contact us! Our customer support is available 24/7 and ready to answer all your questions.